Riding The Washington Backcountry Discovery Route, 2017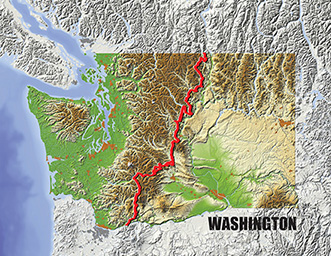 Ever since I bought my Yamaha WR250R I intended to ride at least one of the Backcountry Discovery Routes that are found in the western USA.
Planning for this trip started a year previously when Dave and I decided we definitely wanted to do this now that we had really capable bikes in our Yamaha WR250Rs. We invited Tim Pontius to ride with us on Dave's Kawasaki Super Sherpa. We picked a week that would work for all three of us and then started our own individual planning for how we would carry what we needed. I saved moonlighting money through the fall and bought a few things for this and any following trips: Mosko Moto Reckless 80L bags, a Garmin Montana 680t, and a new Klymit down sleeping bag. I downloaded the GPS files from the Washington Backcountry Discovery Route website for use in my Garmin and studied the route in earnest a few weeks before the trip. We looked on the WABDR thread on ADVrider.com and I made some possible alternate tracks so that if we needed to switch gears during the trip we'd have something to follow.
| | |
| --- | --- |
| | |
A month before the trip we did a trial overnight trip to see how bags, etc. would ride on the trip. Sort of a shake-down ride. But it was aborted part way due to my getting a nasty hornet sting on the neck. Still, it was pretty worthwhile because we learned some things about how to load the bikes.

Watch Video
Finally a week before the trip we serviced the bikes,
loaded things up and got ready to leave.
Page 1 of 18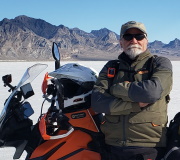 Tom Clark
I'm a Senior Software Engineer at Intellitect, living in Spokane, Washington. I also do a little development work on the side. And I love riding motorcycles all over the country with my friends.
© 2022 MTC Software, Inc.